History
Constructed in 1922, the original 6,200-seat Coliseum Arena underwent an extensive renovation in 2003 to include more seating capacity and corporate suites. The Coliseum is now used for professional ice hockey, the Royal Canadian Horse Show during the Royal Agricultural Winter Fair, and various events during the CNE including the Ice Show.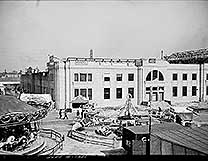 On April 4, 1922, it was the site of the Johnny Dundee vs. Jimmy Goodrich boxing match promoted by Jack Corcoran that set a new indoor sports attendance record for Toronto with 11,900 spectators packed into the building. The mark would stand until the construction of Maple Leaf Gardens in 1931.
From 1942 to 1945, the building was used as a training base for the Royal Canadian Air Force during World War II . During this time, the Coliseum played host to the likes of Bob Hope, Spike Johns and Wayne and Shuster who came to Exhibition Camp to entertain the troops. After the war, it mainly hosted equestrian events for the Royal Agricultural Winter Fair, the CNE and other events. The arena was also used as a horse barn.
In the 1960s and 1970s, rock bands on the road to stardom played the Coliseum Arena, such as the Doors, The Who, Vanilla Fudge, Genesis, Circus and Jimi Hendrix.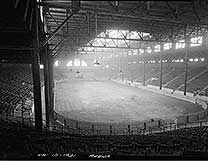 In 2005 the Toronto Maple Leafs announced that they would be relocating their AHL farm team from St. John's, Newfoundland to Toronto. The Coliseum is now home to the Toronto Marlies, American Hockey League affiliate of the Toronto Maple Leafs; and also plays host to numerous prestigious events including the Royal Agricultural Winter Fair, the Toronto International Boat Show, and the Canadian National Exhibition.